Home
About Us
Yorkie Shoppe
Looking for Love
How You Can Help
Forever Ours
In Memoriam Page
Happy Tails
Thank You
Rainbow Bridge
Board of Directors
F.A.Q.
Volunteer Application
Non-Fostering Volunteer Application
Adoption Application
Request to Surrender
Links
Videos & Slideshows
Counter
3920454
RAINBOW BRIDGE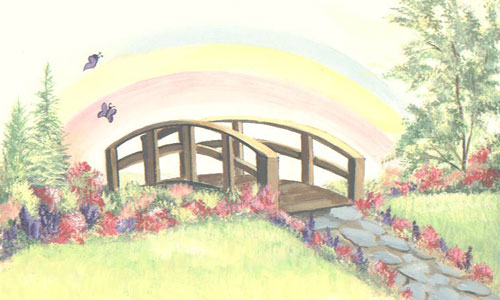 The Rainbow Bridge
Just this side of heaven is a place called Rainbow Bridge.
When an animal dies that has been especially close to someone here, that pet goes to Rainbow Bridge. There are meadows and hills for all of our special friends so they can run and play together. There is plenty of food, water and sunshine, and our friends are warm and comfortable.
All the animals who had been ill and old are restored to health and vigor. Those who were hurt or maimed are made whole and strong again, just as we remember them in our dreams of days and times gone by. The animals are happy and content, except for one small thing; they each miss someone very special to them, who had to be left behind.
They all run and play together, but the day comes when one suddenly stops and looks into the distance. His bright eyes are intent. His eager body quivers. Suddenly he begins to run from the group, flying over the green grass, his legs carrying him faster and faster.
You have been spotted, and when you and your special friend finally meet, you cling together in joyous reunion, never to be parted again. The happy kisses rain upon your face; your hands again caress the beloved head, and you look once more into the trusting eyes of your pet, so long gone from your life but never absent from your heart.
Then you cross Rainbow Bridge together....
Author unknown...

Cleo

Cleo

Sadly on 1/27/16, sweet Cleo had to be helped to the Bridge. Her kidneys declined quite rapidly and although she might have been hospitalized for fluids and support, the remedy would have been very short lived and she would be back in the hospital. Her little body was giving up the fight, so to save her suffering, her foster mom helped her to the Bridge today. Her foster mom was honored to give Cleo a home and so much love the last 10 months of her life, and Cleo won the hearts of everyone who met her during her time with UYR with her fighting spirit and spunky personality. Run free little Cleo and be healthy once again.
Top of page

Nora


Nora

On 1/15/14 precious Nora came into my life, very sick and barely alive. Nora had spent the first 10+ years of her life in a puppy mill. She fought kidney disease, a heart murmur, loss of her left eye, arthritis and about 6 months ago became deaf and blind. I carried her around most of the time after that. She was the light in my life…imagine all those issues and she always had plenty of kisses and love to give me. She was always happy when I or anyone picked her up; she was a lap dog, she slept with me under the covers; I don't know how she could breathe but she had to be as close to me as she could get. Her arthritis in her left front leg was so bad that she would hop and run on 3 legs. She loved laying in the sunlight and my 9 year old grandson Jaden claimed her as his favorite of all my dogs and she knew it. Nora was known to my daughter as Nora Noodle and everyone loved her. On 1/15/16 exactly 2 years from the day I picked her up in Jacksonville, I helped to cross the Rainbow Bridge. She passed quietly and peacefully in my arms, with her Auntie Judy by our side to help us get thru.

She leaves a huge whole in my heart and a deafening silence in my life, but it's hard to imagine a small little 3 pound ball of fire could have had such an impact on so many. RIP my Nora, I will always love you.
Top of page

Zeus and Baby

Zeus

Zeus 12/24/15 RIP Zeus was a tough little warrior. When he came to us his first vet visit ended with a diagnosis of a severe collapsed trachea, and his prognosis was not very good. But he showed everyone how strong he was. He beat the odds for over a year. During that time he elicited many smiles and happy faces from people who got to know him. He was definitely a Mama's boy and will be sadly missed by his Foster Family and Brother, Bubba. Zeus crossed over the Rainbow Bridge at the age of 16. RIP little guy. You were very loved.
Top of page
Sweet Pea

8/17/15 Sweet Pea was just like her name. Very sweet. She was 12 years old and weighed not quite 5 pounds when she came into rescue. During the time of her foster care, she had difficulty gaining and retaining weight and she died suddenly before we could identify what was wrong. We miss this little sweetheart and know she is happy and healthy at the Rainbow Bridge.
Top of page

Gibbs

Gibbs

On 6/24/15 Gibbs had surgery to repair the fistula that was linking his bladder and bowel. The doctors felt all was successful and he was recovering, however on 6/27, the doctors noticed Gibbs incision was leaking stool. Evidently his sutures failed and although we were prepared to do another surgery to repair it, he declined very rapidly. Sadly the only thing we could do was help him to the Rainbow Bridge. Gibbs' foster mom held him, so he knew to the end, he was very much loved. Gibbs, we will never ever forget you. So many people were praying for your recovery so that you could go on and have a wonderful, happy and healthy life. But God had other plans and needed another four-legged little yorkie in Heaven, and He chose You, Little Man.

God Speed, Gibbs...............
Top of page

Bailey

Bailey

Update 6/12/15 Bailey was seen today because he hadn't been eating well for the past day or so. He was due for a dental so his foster mom brought him to the vet for an exam prior to his surgery.

The vet had a difficult time opening Bailey's mouth. She had to place an IV catheter and sedate him prior to exam. Sadly, upon examination, the vet found that Bailey has many lobular lesions in the back of his throat that extended from his teeth down to his trachea. In fact, the veterinary technician had a difficult time placing a breathing tube. The mass is so extensive and delicate that taking a sample of it would cause bleeding into his airway. The vet believes this is a squamous cell carcinoma. It cannot be removed due to the extensive size and location. She says that even with steroids, Bailey probably has less than two weeks to live. Poor little Bailey's quality of life diminished so quickly and he was in such pain, we had to make the decision to let him go to the bridge. His foster mom and dad were with him at the time so he knew he was a loved little boy to the end.
Top of page
Little Peanut

5/14/15 It is with a broken heart that I have to share the news of Little Peanut's passing. Little Peanut came to United Yorkie Rescue for a loving home with one other fur-brother who loved to play. During their play, Little Peanut fell off of a low ramp and fractured his leg. Because they wanted him to have the best possible chance for having a healthy pain-free life, his family contacted UYR for help. When I first met Little Peanut, I instantly fell in love with his cute little face. After a trip to the vet for a splint and perfect blood levels, we were finally headed home. By the time we got there, he had wiggled his way on to my lap where he spent the rest of the night. We had a wonderful Mother's Day where Peanut gave everyone kisses! I dropped him off early on Wednesday and heard later that he was scheduled for surgery later in the day. The report was that surgery went well and he should be ready to go home the next day. Supposedly he was doing well... Then something went wrong. I got a call early afternoon that They discovered Peanut dead in his cage. I didn't think my heart could break as much as it did with that message. The day was a very difficult one for my family as we began to mourn the loss of a tiny dog that had already meant so much to us. Please give your fur-baby an extra hug in memory of Peanut. He will forever be missed.
Top of page

Chance

Chance

Updated bio 5/4/15. It is with a broken heart we have to share that we just learned Chance has crossed over the Rainbow Bridge. He died this afternoon at about 5:00. He put up a good fight for such a little fellow and gave it his best shot, but the deadly parvovirus was just too much for him.

United Yorkie Rescue wants to thank everyone who donated towards his care. And although he didn't make it his vet bills will total over $1,000.

With tears in our eyes and sadness in our hearts we can only say, Rest in Peace little Chance.
Top of page

Maggie Mae

Maggie Mae

Sadly on March 28, 2015 Maggie Mae went gently to the Bridge; her foster mom said she licked her hand before she drifted off.....no doubt thanking foster mom for helping her to no longer have pain and suffering. Maggie came to UYR with a history of seizures. Many small dogs have seizures which we began to manage with medication. HOWEVER Maggie Mae developed sudden onset of complete blindness, constant circling behavior and extreme anxiety. The anti-seizure medication was no longer working and Maggie Mae's condition was declining rapidly. We had to make the difficult decision to help her out of this misery.

THANK YOU TO MAGGIE MAE'S RESCUE ANGELS!

Jan Freeman, Barbara Carvalho, Nancy Alonzo, Brenda Hutto, Biljana Cosic, Lynne Turner, Robin Nyberg, Terri Hoss, Lauren West, Tammy Brown, Mary Cooper, DeAnn Deutsch, Jane St. John, Patricia Donovan, Charlene Dougan, Christeen McMahon, Amy Chernault, Ilene Rand Jessica Lundquist, John Sauser, Linda Rowley, Sherry Warren, Cheryl Scrupski, Jan Clasen, Karry Rogers, Nicole Kontaxis, Sandy Pagnotta, Irene and Peter Havas, Colleen Thompson, Nellie Volf, Sheila Landis, Erik Ebert, Patricia Bain, Courtney Hurlburt, Karry Rogers, Alicia Bronner
Top of page

Mac

Mac

Mac

August 24, 2003 - February 13, 2015

I can clearly remember the day as if it was yesterday when I found Mac on the UYR website for Texas. I saw the look on his face in his picture and knew he was the one. It was Love at first sight, for both Mac and I. When meeting him for the first time, Mac was the only Yorkie running around with a baby (toy) in his mouth. After adopting Mac and bringing him to his forever home we all discovered Mac had such a Wonderful and Loving Personality. He always loved his babies, loved looking in the grocery bags looking for new babies (toys), flinging babies onto entertainment center, running around with a leash in his mouth just because he could. He loved his truck rides with his head out the window, and beeping the horn occasionally. He had a secret love for the UPS and Mailman chasing their trucks and one day jumping into the Mailman's truck to say hi! He also loved Getting into Grandma's tissue box, spreading the tissues everywhere and so much More! Always Greeting Everyone at the door wagging his nub with a baby and his Beautiful Smile.

He was such a little fighter. He had diabetes and lost his sight and hearing in 2013 and was burdened with other health issues. He never let that bother him. He was a real trooper. He still always knew when we came home. Mac would get up and find his babies and bring them to us still.

Such a Loving Sweet Boy.

Truly One of a Kind!

A True fighter to the end.

I'm sorry you had to leave me. You have left Big Paw Prints on many Hearts.

Thank You for coming into My Life.

You are Truly Missed!

You Will Always Be My Sunshine Mac

My Everything!

You Rescued Me Mac!

I Will Always Love You!

Until We Meet Again My Little Lovie!

A Sincere Thank You to Everyone that Helps to Save all these Beautiful Babies. Rescue On!

Sincerely,

Cheley
Top of page

Chisum

Chisum

Our dear sweet Chisum was helped to the Rainbow Bridge on December 22, 2014. He lived a long and happy life with his Mom, Pop and two furbrothers for 17 years and 8 months. He loved to play ball and be a hockey goalie and go on trips to Yellowstone. He will be missed and loved forever until we meet again at the Rainbow Bridge.
Top of page

Zoe

Zoe

Our beloved Zoe crossed the rainbow bridge on October 29th, 2014. We had fostered her for over 18 months, and we loved her like one of our own. She was the sweetest little girl and loved nothing better than to snuggle beside you whether you were on the couch or in the bed. She was a tiny little girl who was picked up in some apartments by animal control. She was skin and bones, freezing to death, and had a badly infected eye. She was such a little trooper enduring major oral surgery that resulted in having most of her teeth removed, and later having her left eye removed. She gradually lost the sight in her right eye and was totally blind. She had bad gastrointestinal problems, but after trying several different medications and foods, that had subsided. What she struggled with the last 3 months was dementia that seemed to be exacerbated by her blindness. It had gotten to the point she cried all the time unless I was holding her, and the last 3 days she didn't even know who I was, and she was inconsolable. Rest in peace my sweet baby girl. We will never forget you!
Top of page

Dodo

Dodo

On November 15, 2014 we lost Dodo, our beloved companion for the past 13 years. He crossed the rainbow bridge peacefully after a long battle with chronic illnesses and their complications. Dodo, a Yorkshire Terrier, came into our life in February 2002 and immediately became the center of attention in our household. We miss Dodo's familiar bark, his ability to put two small tennis balls in his mouth and other unique characters that made him so special. Dodo was able to communicate all his needs and understood multiple commands. He was truly a one of a kind dog. We actually never thought of him as a dog but as a child or as one of us. We miss him very much.

Dodo was born with bilateral hip dysplasia, which resulted in severe arthritis and difficulty to walk in his later years. He also required surgeries on both knees due to torn cruciate ligaments, which led to arthritis of both knees. For several years, we took him to parks in a stroller so that he could enjoy the outdoors. Everybody at the dog park seemed to know Dodo and when he left us, we received so many emails and sympathy cards. In addition to arthritis, Dodo had epilepsy and laryngeal paralysis, so he required multiple medications. Three years ago, he was diagnosed with Cushing's disease. Although he improved a lot with trilostane, during the last few months the side effects of the treatment became worse than the disease. He completely lost the ability to stand on his paws or walk. He had to be carried up and down the stairs for over a year.

Dodo had a unique personality, greeting us with his distinctive bark when we arrived home and looking at us with his piercing brown eyes. He loved treats and often asked for them by pointing to the place on the counter where the treats were kept. Having had Dodo has made us better people. We hope to help other Yorkies and all dogs find loving homes. We also hope that these lines and his picture will keep Dodo's memory alive. To learn more about Dodo and his life, please visit his website [Dodo's memory].

Mahmoud & Peri Loghman-Adham
Top of page

Tex

Tex

10/05/2014: From Tex's Foster Dad: My best pal, Tex, had to be helped to find his way across the rainbow bridge. He was unable to make his own way so we gave him the help he needed to make the crossing. Cross the bridge in peace my friend and know you are taking a bit of my heart with you. It's been over a month since I let you go and I still look for you and expect you to be at my side. Thanks for letting me hold your animated bit of cosmic space dust in my arms for the past year and a half. It's hard to say goodbye but I was blessed to have had the privilege of being your final harbor from the storm and I promise to keep my heart open for the next little man that needs a warm place to rest his head.

Foster Dad Edwin
Top of page

Sheba Marie


Sheba

It is with great sadness that I write to you to let you know that Sheba passed away on 6/3/14 from kidney disease. We are all in mourning still, including Scooby. We were so blessed to have her in our lives and we miss her so much. Scooby is finally starting to act more like himself, but the absence of her is painful. She was adored. Becky and Darren
Top of page

Jessie

Jessie

Sadly on May 3, 2014, Jessie went to the Rainbow Bridge. We believe she was close to 15 years of age and she was rescued from a mill breeder in Wisconsin in January, 2007. Jessie was always extremely fearful of men making it difficult to find a suitable home for her. She had complicated medical needs that included a heart condition and Protein Losing Enteropathy and later a dry eye condition. Due to these issues, we chose to make Jessie a Forever Ours so she could live out the remainder of her life in quiet comfort.

Despite her issues, Jessie was a sweet girl who demanded little. I cried the first time she approached me to sit with me. It took more than a year for her to lose her fear of even me. Over the years, she learned to adjust to others coming into the home, very hesitantly seeking out attention. Jessie had the cutest little ears that stuck out like a nun's cap. She hated to be photographed and would always turn away when she saw me trying to take a picture. She did learn to like being outside (only in the back yard…traffic frightened her so she never went on walks). She loved finding rays of sunshine and snoozing and sleeping on the sofa was her absolute favorite place in the world. When I would come downstairs in the morning, she'd do a little happy dance, virtually tripping over her own feet. She would run about excitedly when it was mealtime.

In the last several months, Jessie began to show signs of aging and slowing down. Her appetite decreased markedly in the last month and I was cooking all sorts of things to tempt her to eat. She was eating less and less and began to exhibit breathing problems which prompted an overnight stay in the doggie ER to be in an oxygen cage. She came home with an increase in her Lasix and we made an appointment to see a cardiologist, however I was told even with an ultrasound and cardiology evaluation, there might be little we could do to remedy her issue. As Jessie began to show even greater decline, it was clear she was beginning to suffer and needed help to the bridge. This little angel spent the last 7 years with me and I thank God I had the opportunity to give her a better life than she had known before. I loved her as my own and will miss her cute, gentle little ways. Rest in peace little Jessie. You were loved so much and will always be in my heart.
Top of page
Stallone

UPDATE 03/05/2014: We want to again thank all our wonderful donors for their outpouring of support for Stallone who came to UYR in an emaciated condition with a broken jaw, severe dental disease and inability to properly eat. Stallone was evaluated by a surgical specialist who believed it was possible to repair his jaw and Stallone went into surgery on Tuesday, March 4.

Unfortunately, once under anesthesia, the surgeon was able to more fully assess Stallone's mouth and jaw. He reported that there were two jaw fractures, two nasal fistulas that would compromise healing and all his teeth were rotted. The jaw bone was so severely deteriorated from infection, the ability to do a bone graft with locking plates and screws had only a 20% chance of success. Bone grafts need healthy tissue in order to adhere and sadly Stallone's mouth was too far gone. Initially it was believed Stallone had a 60-75% chance of recovery. His lowered chance of a recovery from two fractures, severely deteriorated bone, the protracted recovery with a wired jaw and esophageal feeding tube, and the need for additional surgeries to pull all his teeth and repair the fistulas lead us to a decision that we never like to make…we decided to humanely euthanize Stallone.

If Stallone's former owner(s) had not neglected his teeth his entire life, he would still be alive and bringing joy to his Foster Mom & Dad and ultimately a loving forever family. He was a little boy who despite all, still trusted humans and craved affection and attention. He deserved a better life than he had and sadly came to UYR too late.

Sweet Stallone, your pawprints will be etched in the hearts of the UYR members who met and fell in love with you, and to the many generous donors who so lovingly donated money so that you could have a chance to live out your life without pain and suffering. We all tried so hard to save your life. RIP, Little Brave Man.

We sincerely thank all our donors for their generosity and well wishes on behalf of Stallone. UYR will use the remaining balance of these donations to cover the medical expenses of Florida foster dogs Cookie, Nora and Linda whose combined vetting exceeds $4700.
Top of page

Darrenger is deeply missed

Darrenger

My heart is heavy with sadness. Tonight I found out, that one of my previous fosters passed away last night from Kidney failure. (01/09/2014). He would have been 14 yrs. old on 02/17/2014.

Darrenger, re-named Darin, was adopted by Virgil & Elaine Navis on 05/22/2012. Virgil said they are so thankful to have had him as part of their family.

Rest in Peace sweet Darin...
Top of page

Bixby

Bixby

10/28/13 Bixby came from a very neglectful situation, but he was such a happy little boy. He made an instant impression on each and every person who met him. He stole my hubby's hearrt - hubby cried for days when he thought of Bixby after his adoption in July.

Bixby had a happy life with his new family who adored him...........sadly, his happy life came to an end way too soon. Bixby was diagnosed with an inoperable brain tumor and went to the Rainbow Bridge today. I shall never forget this precious little man - his love of life and his person made you smile every time you looked at him. God Speed Bixby - you shall never be forgotten....................
Top of page

Yoshi

Yoshi

Colleen

I am sorry to tell you that our dearest Yoshi left us on Saturday morning. He departed our lives as he entered smiling and happy. His trachea gave out. He started laboring more than usual for air with his head tilted back and was up all night . In the morning he kept going under the bush where Our last dog passed, he had never done this before.

He told me he was tired and ready to go, we played for a while and took many pictures but he kept returning to the same spot.

Brad & I took him to the vet and after many hours of treatment, he was getting worse rapidly, she felt he would not recover and wanst a good candidate for surgery as she estimated his age at 13.

I will so miss his raspy little honk, the squeaky toys, how he loved to tumble into his dog bed, snarfed his food tossing kibble, "shepherded" our little special needs guys, marched around the house and always greeted me with a toy and a hug when I got home.

He never was a kisser but just before he passed he finally planted one on me and I knew it was his time to leave. We said our tearful goodbyes and he smiled the whole time.

We are heartbroken but we know he had a great home for 9 months and was very very loved....bumps and all!

My husband and I committed to helping these little friends and hope to adopt again soon. The attached picture is from my conversation with Yoshi just before he left.

Please keep in touch and if required the vet is Pegah Gillette with Angel Animal Hospital

Kiersten Raynor
Top of page