Home
About Us
Yorkie Shoppe
Looking for Love
How You Can Help
Forever Ours
In Memoriam Page
Happy Tails
Thank You
Rainbow Bridge
Board of Directors
F.A.Q.
Volunteer Application
Non-Fostering Volunteer Application
Adoption Application
Request to Surrender
Links
Videos & Slideshows
Counter
4670351
RAINBOW BRIDGE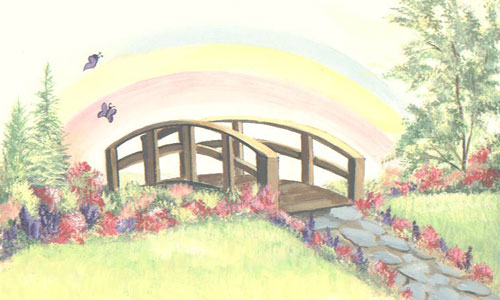 The Rainbow Bridge
Just this side of heaven is a place called Rainbow Bridge.
When an animal dies that has been especially close to someone here, that pet goes to Rainbow Bridge. There are meadows and hills for all of our special friends so they can run and play together. There is plenty of food, water and sunshine, and our friends are warm and comfortable.
All the animals who had been ill and old are restored to health and vigor. Those who were hurt or maimed are made whole and strong again, just as we remember them in our dreams of days and times gone by. The animals are happy and content, except for one small thing; they each miss someone very special to them, who had to be left behind.
They all run and play together, but the day comes when one suddenly stops and looks into the distance. His bright eyes are intent. His eager body quivers. Suddenly he begins to run from the group, flying over the green grass, his legs carrying him faster and faster.
You have been spotted, and when you and your special friend finally meet, you cling together in joyous reunion, never to be parted again. The happy kisses rain upon your face; your hands again caress the beloved head, and you look once more into the trusting eyes of your pet, so long gone from your life but never absent from your heart.
Then you cross Rainbow Bridge together....
Author unknown...
SMores aka Ziggy

3/18/20 Sadly today we had to help Smores to the Rainbow Bridge. He was in liver failure and had a massive infection. There was no way we could help him recover from this. Rest in Peace sweet Smores!
Top of page
Eli

3/16/20 We accepted Eli, a little stray, into rescue today with the hope that we got to him in time and could help repair all that was wrong with him. However this poor boy was discovered to have serious kidney and liver issues and an ultrasound of his liver showed one large and multiple small masses which are likely malignant. He was given a body score of 2 out of 9 and was suffering with eye infections, possibly brought on by untreated dry eyes and ulcers. We had no real choice today than to help Eli to the bridge. We wish we could have gotten this sweetheart sooner, but are not always in time. Rest in Peace sweet boy.
Top of page

Haven

Haven

09/19/2005 - 03/03/2020

My Haven came to me 10 years ago. She was in a horrible puppymill, in Wisconsin, for 4 years. I was the Lucky One, because I became her foster Mom! Of course, it didnt take me long to adopt her.

For the 10 years Haven was with us, she was glued to my side. If she couldnt see me, she would bark until I came into view. I so miss her bark... Haven passed away today in the arms of her momma and daddy.

We miss you sweet girl...You will forever be in our heart, mind and soul.

Love you Always!

Your Momma
Top of page
Molly Noelle

2-27-20 Sadly today we had to help Molly Noelle to the bridge. Her tumors were growing so markedly and causing her pain. We are all heartbroken because she deserved more of a life than we were able to give her. Thank you to all who helped us in the fight to save her life.
Top of page
Dyna House and Harley House

In Loving Memory of Dyna House and Harley House
Top of page

I am at peace now. Thank you for trying to save me.

Lottie

11/30/19 Poor Lottie. It was worse than we thought. Nothing went right for her. We knew she was blind and her skin was bad, but the wasn't the issue. Dogs do great without sight and skin issues can be fixed, but then the medical list of problems went from bad to worse. At one time someone likely botched a surgery and severed her sphincter muscle. She had no control at all of her bladder or bowels and was constantly dripping and oozing a bad smelling liquid. She couldn't have a bowel movement or urinate unless it was manually expressed by her foster mom or the vet. She had mammary tumors that most likely were cancerous. She had a tumor on her neck and probably had a heart issue. We had hoped surgery would fix most of her issues, but that was not to be. There is no way to replace a sphincter muscle. And without that she could never be fixed, and at her advanced age of 14 years or more she had no quality of life. It was likely she would have died in the shelter from the backing up of urine and stool. We rushed to save her and we did our best, but we couldn't save this one sweet girl. This little senior baby didn't have a mean bone in her body, she didn't deserve what was happening with her. As much as we wanted and tried, we couldn't save her, but she was not going to pass from this life alone. United Yorkie Rescue and her foster mom gave her three days of good food, lots of care, a warm bed, and lots and lots of love. She passed in the loving arms of her foster mom.

Lottie, sweet girl, may you Rest in Peace. We had hoped we could save you, we tried, but it was not meant to be.
Top of page

I am at peace now. Thank you for trying to save me.

Alvin

11-14-19 Sadly, Alvin decided it was time for us to end his suffering. We graciously held him as he was sent off to Rainbow Bridge. No more seizures. No More damage from his trauma. Now full of energy and whole to enjoy his time with our other fosters at Rainbow Bridge. A piece of my heart is with you sweet boy. Run free Alvin!
Top of page

Sweet Finlee Joy. You will never be forgotten. In our hearts forever.

Finlee Joy

11-6-19 We have sad news to share. Our tiny puppy Finlee Joy has crossed the rainbow bridge. This tiny girl just had too many obstacles for a tiny puppy to overcome and it is with many tears and profound grief we now must share this news. We had her a brief 12 days but during that time we (ALL OF US INCLUDING YOU) tried to move heaven and earth to save her but sadly not all can be saved. We knew she had a liver shunt and neurological symptoms but those are not all that uncommon in shunt puppies and we hoped surgery would correct everything. It was when her surgeon suspected other issues we had Finlee seen by a Veterinary Neurologist. We stayed hopeful but Finlee was found to have congenital brain issues including hydrocephalus and a small cerebellum. These can sometimes be managed but Finlee's symptoms became severe and she was on the highest doses of medicine we could safely give her. She was in pain, seizing and spinning continuously and had little hope of improvement or survival so we had to make the hardest and most painful decision of all.....to release her from her suffering. It's on days like this we all feel defeated and as though all we do counts for naught but Finlee had a shot and we chose to try to give her a chance at a good life. She would not want us to give up but rather to dry our tears, put on our rescue armor and go save another. A profound thank you to everyone who prayed for her, shared her story and donated. You are Finlee's true heroes. Heaven will shine just a tiny bit brighter tonight. We know that she is smiling down on us all and blowing us gentle puppy breath kisses from heaven where she is whole and released from her suffering. Rest In Peace Finlee Joy. You were much loved by us all.
Top of page
Oscar

10/15/19 Sadly today we helped Oscar to the Rainbow Bridge. He began having seizures back to back that could no longer be controlled with medication. Rest in Peace dear Oscar...you were loved at the last and hope you felt that love from your foster mom who fought so hard to get you well.
Top of page
Sebastian Issac

Sebastian Issac passed over the rainbow bridge today. He came into the rescue after he was saved from a kill shelter. He fought hard but was so small and his kidneys were falling him. But his foster mom gave him all the love she could in his final days. He knew he was loved. And now he is a peace able to run and play with all the other babies who have passed before him.
Top of page
Benny

My heart is breaking today my sweet Benny Boo crossed the bridge. He was a precious boy and such a blessing. I am so happy that he is no longer in pain or confused. He is now able to run and play and enjoy his everafter. Thank you to everyone who sent him love and support. You are so appreicated.
Top of page
Derby

9/23/19 Sadly Derby was helped to the Rainbow Bridge today. His condition worsened and he was found unresponsive the previous day. He was evaluated at an emergency clinic and seen by his neurologist who agreed it was time to let him go.
Top of page
Peanut

9/4/19 Sadly today we had to help Forever Ours Peanut to the bridge. She had developed bladder cancer and despite medication began to fail in the last week. Rest in Peace Peanut...you had 5 years in rescue and were loved every minute of that time.
Top of page
Missy WI

8/30/19 Sadly Missy had to be helped to the bridge today. Rest in peace Missy and run free and healthy again.
Top of page
Precious

8/26/19 Precious crossed over the Rainbow Bridge today.
Top of page
Bailey

8/19/19 Sadly Bailey passed today after complications from a dental procedure. She had developed pneumonia and her heart began to fail. She spent two days in emergency care but there was nothing they could do to save her.
Top of page
TN Milo

Milo went for his shunt surgery on Wednesday. He came thru surgery and I thought he was on the road to recovery. I received a call around 8:30 last night telling me that he was having trouble keeping his blood pressure up and regulating his body temperature. The Dr's put him on medication to try to elevate his blood pressure. After several hours and maxing out the dosages he could have I got the call nobody wants to get. Blue Pearl and Dr Wood were great, Dr Wood explained everything to me and what my options were... Milo was a fighter but after exhausting our options it was decided to let him go so that his suffering could end. Not wanting him to be alone I jumped in the car at 1:00am to head to Franklin Blue Pearl so that I could be with Milo in his last hours I wanted him to know he was loved. When I got there they brought him to me and I held him and talked to him, I played lullaby music for him he was able to raise his head a few times and even give me kisses. He passed over the rainbow bridge around 3:30am. I love fostering and each dog that comes into my home becomes a part of my family. I love them dearly and when they go to their forever home they take a piece of my heart with them. They are forever in my heart. Milo was loved so much in the short time he was with me and I pray he knew that and felt my love in his last hours. I brought Milo home with me and he has been buried in our yard. I know not everyone feels the same about pets or animals but he was and will always be a part of my family. He did have major health issues and racked up a significant bill. United Yorkie Rescue is an awesome organization and gave him every chance at life as they do with all rescues they take in... Rescue can sometimes be hard but it is also rewarding to know you helped a sweet baby find his or her forever home. If you can please make a donation in Milo's memory I would be so grateful, no amount is too small or too large please go to our website unitedyorkierescue.org to make a donation. Donations are the only way the rescue is able to help Milo and others like him. Rest In Peace my sweet boy.
Top of page
Buddy

7/23/19 Sadly today we lost Forever Ours Buddy who was approximately 16 years old. His health had declined to the point where he was no longer eating even his favorite foods. He was telling his foster mom it was time to go. Rest in Peace Buddy...you will be dearly missed.
Top of page
Zoey

6/25/19 Sadly last night we had to help sweet little Zoey to the rainbow bridge. While in the specialty hospital her heart failed in the late evening hours. She came back on her own, breathing and with somewhat more normal blood pressure, while on the phone with the vet, her blood pressure began to fall again as did her body temperature. Foster mom and foster dad drove to the clinic and were with her at the end while we helped ease her suffering. Zoey knew at the end she had love and was treasured and we gave her a peaceful end. Rest sweet Zoey, run free and healthy again. You were loved very much by foster mom and dad and all of us at UYR.
Top of page
Maizie

Today, we lost our Sweet Maizie. She no longer is in pain and can run free. I know she is in a better place, but we already miss the pitter patter of her tiny feet and her ice cold ears against our face when we held her tight. This is the very last picture I took of her last night as she was playing. Maizie, you touched everyone you met with that tongue and no jaw in that itty bitty body. We love you so much and always will! Rest In Peace sweet angel! 🐾❤️🐾
Top of page